It's that time of year again when springtime is in the air and your to-do list is getting even longer. Before you start cleaning out the gutters or washing those hard to reach windows, here are a few ladder safety tips for spring cleaning:
Choose the right ladder for the job you are doing. The style, size, weight capacity, and material of the ladder are all determining factors.
Make sure that the ladder you are using extends at least three feet over the roof line or your working service. Set up your straight, single or extension ladder at a 75 degree angle. Stand with your toes at the bottom of the ladder and reach straight out to touch the rungs with your fingertips. If you can do this you've got the right angle.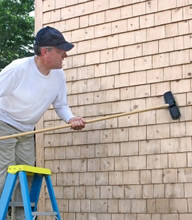 Place you ladder on a dry and level surface away from opening doors. Never place the ladder in a puddle of water or in the mud.
Check all locks and extensions on your ladder to make sure they are set before you start climbing.
Stay off the top step of a ladder and never climb or stand on the rear section of an extension ladder.
Keep your balance and never overreach on your ladder.
Don't use your metal ladder near power lines or electrical equipment, fiberglass or wood ladders should be used instead.
When you are done with your ladder simply put it away. This will ensure safety for others as well as proper care for your ladder.
If you need help tackling that springtime to-do list or any outdoor home repairs, we would be more than happy to help with those tasks.
Looking for more safety tips, read about baby proofing your home.
Mr. Handyman can maintain your home to save you money. One call really does take care of everything on your to-do list. All Mr. Handyman franchises are Fully Insured with General Liability and Workers Compensation. Some services are subject to state and local licensing and may not be available in all locations. Make sure to stay on top of all your household repairs, improvements and maintenance needs and request service in your area.