Need A Home Makeover?
Welcome to Mr. Handyman of Calgary South where professional, safe, reliable handyman service for your entire "To Do" list is just one call away. That's why local residents choose our professional handymen, who specialize in ALL major and minor home repairs over an independent handyman.
Rather than calling a specialist to patch drywall and hiring handyman help for rain gutter/eavestrough repair, our neighbours consistently choose us for quality work that's "On time. Done right.®"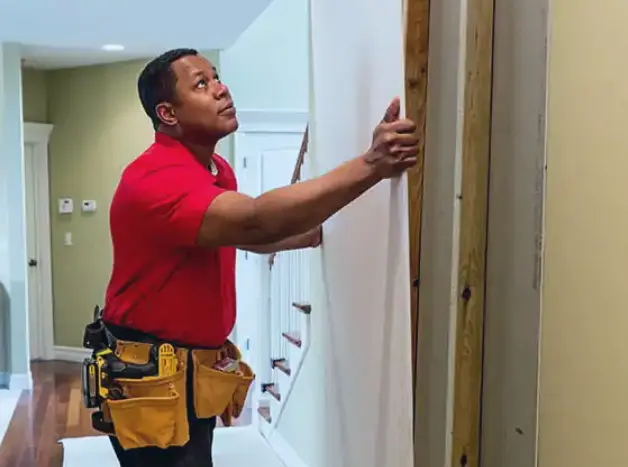 Mr. Handyman of Calgary South
Professional Handyman Services
We are a family-owned locally-run home improvement business offering a one-call solution and a worry-free customer experience. No job is too small for our highly qualified, trusted and tenured technicians. Our state-of-the-art booking technology means your inquiry will quickly get answered and your to-do list tackled in no time. We are licensed and insured so you are in good hands. We have strived and worked tirelessly to achieve our A+ BBB rating along with our glowing 9.5 of 10-star recognition on HomeStars as a Verified Professionals.
Mr. Handyman of Calgary South is very proud of being selected as a 2021 HomeStars Best of Award Winner. This prestigious award recognizes the best across the HomeStars network of over 60,000 Canadian home service pros. Winners were carefully vetted for consistency, integrity, unparalleled customer
We are also proud of our 4.4 of 5-star rating on Google My Business as well of the more than 300 online customer reviews. There's Simply No One Like Us!
Our Mission
Mr. Handyman is your one-stop shop for a wide range of home maintenance and repair solutions. Mr. Handyman's service technicians are highly skilled craftsmen, so you know they will get the job done right the first time.
Best Handyman Services Near Calgary, Okotoks, Tsuu T'ina, Vulcan, and ZamaCity
Things tend to break down when you least expect them to, and for some homeowners, it can often be the things they don't feel comfortable working on themselves. When you need a dedicated team of professionals with a full list of services they can perform at your beck and call, that's us!
At Mr. Handyman® of Calgary South, we take care of the repairs and maintenance tasks building up on your to-do list so you don't have to. Our trained professionals handle any task you need to have completed. When you need quality home repair services, you can call on Mr. Handyman of Calgary South to get the job done right.
Handyman Repair Services
All of the handyman services we offer at Mr. Handyman of Calgary South are backed up by the Neighborly Done Right Promise™. If the work is not completed to your satisfaction, just call us within the year of the task and we'll come back out and make it right, no extra charge.
As part of the Neighborly family of companies, we are proud we can offer this steadfast promise to all of the homeowners we serve. Our commitment to excellence ensures that every job is done right the first time.
Handyman Maintenance Services
Our home maintenance services will keep your home in good working order throughout the entire year. Closely monitoring your appliances, HVAC, and electrical systems will increase longevity. At Mr. Handyman of Calgary South, our highly trained professionals can review your components and identify areas that may show wear and tear with repairs that can be made on the spot, reducing your risk of a breakdown.
Handyman of Calgary South FAQs
If you live in or near Okotoks, Vulcan, Calgary, or nearby communities, call Mr. Handyman of Calgary South to get answers to all your most frequently asked questions. We are a locally owned company, and our uniformed, trained professionals can answer any question and show you any problems they may find during a home maintenance service. Your satisfaction is always our top priority!
Check out our most commonly asked questions below, and don't hesitate to call us if you have specific questions about an upcoming project.
What is a handyman?
A handyman is a skilled tradesman with the necessary training to repair and maintain many components throughout your home. They are experts who utilize a wide variety of tools and equipment to maintain your home's appliances and other components. A handyman's goal is to fix broken things and provide home repair services that will keep your home in good working order.
What does a handyman do?
A handyman understands that many homeowners can handle simple repair jobs on their own. When a homeowner calls in a handyman, it means they want to make sure repairs are completed correctly and in a timely fashion. Repairs may sometimes require a special tool that only a trained professional may have access to.
Does a handyman in Okotoks need a license?
If you live in the areas surrounding Calgary, you may need a license to offer handyman services when completing specific repair tasks. A handyman who puts together furniture and performs relatively small jobs may not need a contractor license, but if they have the tools and equipment to take on larger jobs, they will need to apply for and maintain a general contractor's license.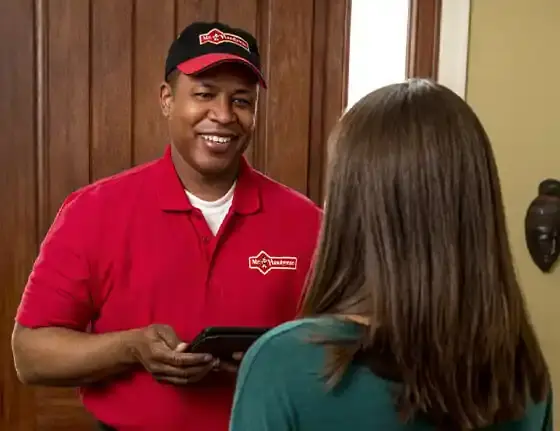 Mr. Handyman of Calgary South
Choose the right handyman services team in your area. When it comes to selecting the right team for your home improvement needs, Mr. Handyman is the right choice.
Areas We Serve:
Some of Mr. Handyman of Calgary South are the South West and South East communities of Rideau Park, Acadia, Parkhill, Britannia, Elboya, , Eagle Ridge, Pumphill, Haysboro, Palliser, Braeside Lake Bonavista, Willow Park, Deerrun, Mapleridge, Evergreen Estates, Shawnessy, Millrise, Cranston, Chaparral, Walden, Legacy, Sundance, Midnapore, Queensland, Mount Park and Mackenzie Lake, Copperfield, New Brighton, Quarry park, Douglasdale, Mahogany, Auburn Bay, Seton, Silverado, Heritage Pointe, De Winton as well Calgary 's surrounding areas of Cochrane, Airdrie, Chestemere, Okotoks.